First Bridge In Woods County
Information from the 1904 Souvenir Edition - of the Alva Pioneer, Friday, Jan. 1, 1904, Vol. 11, No. 16, by W. F. Hatfield, Alva, Woods Co., Oklahoma. W. F. Hatfield, Publisher Daily and Weekly Pioneer editor, sold the "Souvenir Edition" in 1904 for 50-Cents. It was printed to celebrate Alva's tenth anniversary since the opening of 1893.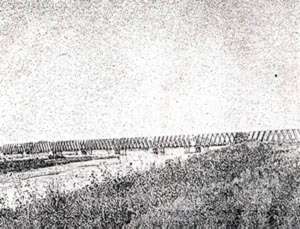 The first bridge in Woods County was across the Salt Fork of the Arkansas River, north side of Alva. The frame work was torn away and the bridge rebuilt 1903. It was also the first bridge in Oklahoma. One across the same river south of Newkirk was built by the Santa Fe the same fall this one was in 1886, don't know which one was built first. A new bridge now occupies the site where this old bridge once stood.
The Santa Fe Section HouseÖ (First Frame Building)
As reported by the "1904 Souvenir Edition" of the "Alva Pioneer", the first frame building ever built on the present townsite of Alva and the first in Woods County was thought to have been the Santa Fe Section House in this photo.
The First Postoffice & Postmaster in theCounty
The first post office ever opened in what is now Woods County was at Waynoka in 1892. B. F. Spalding, the Santa Fe station agent there, was the postmaster. The office was established to accommodate the cattlemen who had possession of the country at that time. W. A. Childress was the first station agent, and he was put in charge of the Waynoka station in 1886. Waynoka, up to the time the county was opened for settlement, was one of the greatest cattle shipping points in the world. April 1, 1894, Alva postoffice was made a money order office.
Alva Pioneer 1904 Links
Agitator & Oklahoma Run
U. S. Land Office
Alva Tidbits of 1903
1904 - Early Recollections
1st Bridge & Frame Building
Oklahoma Broom Corn
Oklahoma Beats the World
Scott Cummins, Pilgrim Bard
Tenderfoot Girl in the West
In Oklahoma - Early 1900 poem
Woods Co. Schools - 1904
Alva Pioneer Staff
1st Newspaper
The Scramble for Land
Eagle Furniture Store & Undertaking
1904 Letter to Editor - John Culver
Summary - Annual Report 1903