The Tenderfoot Girl In The West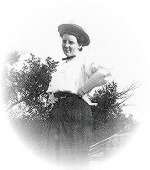 When first she arrives from her home in the East
She feels some timidity, and
Oft wonders what nature of man and of beast
She'll meet in this wonderful land,
She's read that we're wild and quite wooly out here,
But galvanized heathen at best,
And can not but feel an unrising of fear,
The tenderfoot girl in the West.
The mountains to her are a startling surprise!
She never imagined that they
In bold and magnificent granduer would rise
Where clouds 'round their summits would play,
And when in the ranges her bright glances fall
On People respectably dressed,
She scarcely can credit her senses at all --
The tenderfoot girl in the West.
She'd pictured the cowboys as fiends in their way,
All seeking for chances to shoot,
But after she's been on the ranch for a day
She thinks them "just awfully cute."
She goes to their dances, enjoys being swung
From the floor with most infinite zest,
And soon you would think from her actions and tongue
The darling was born in the west.
When leaving, the boys of the ranges for miles
Ride in for a final goodbye,
And though her tanned face may be beaming with smiles
They're punctured with many a sigh.
They say she a rattlin' good girlie, and she
Responds that she thinks them the best
And jolliest fellows she "evah did see,"
The tenderfoot girl in the West.
-- Denver Post --
Alva Pioneer 1904 Links
Agitator & Oklahoma Run
U. S. Land Office
Alva Tidbits of 1903
1904 - Early Recollections
1st Bridge & Frame Building
Oklahoma Broom Corn
Oklahoma Beats the World
Scott Cummins, Pilgrim Bard
Tenderfoot Girl in the West
In Oklahoma - Early 1900 poem
Woods Co. Schools - 1904
Alva Pioneer Staff
1st Newspaper
The Scramble for Land
Eagle Furniture Store & Undertaking
1904 Letter to Editor - John Culver
Summary - Annual Report 1903