A Political Legacy (1959 - 1964)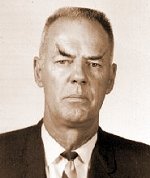 Gene M McGill, Alva, Oklahoma, Oklahoma Democratic State Chairman.
I've been reading some old news articles in my dad's scrapbook. You know what my trouble is... I want it all written up right now and it overwhelms me. I'm swamping myself with things I want to do.
I need someone to tell me SLOW DOWN. TAKE IT A LITTLE AT A TIME! I guess I'm trying to catch up on lost time, because I was just a young girl not paying much attention to what was going on with my dad's life when he was in politics. AND there was no one to explain to me what was going on. Everyone was busy with their own thing.
NOW ... I'm in the process of trying to piece the little things I remember together with the things I'm reading right now. I would love to hear from you!
Political Legacy Links:
Kennedy & McGill