NW Oklahoma Newspapers Past & Present
by - LK Wagner - 19 August 1997, Tuesday
There have been several Newspaper that have come and gone in NW Oklahoma to either publish public notices or to merely inform and entertain their readers.
According to information taken from "The Birth of Freedom" by John Cable, R. I. (Ren) DeGreer was appointed US Commissioner in 1906for the Old Freedom Country Area. It was DeGreer's job to publish filings on homesteads, filed contests, make changes of entry, prove up homesteads, and other jobs. Mr. DeGreer would then give final published proofs in the newspaper nearest the lands being homesteaded. DeGreer was also appointed as a Notary in the area around Freedom, Oklahoma.
At that time the Freedom Country was located in Woodward County with Woodward as the county seat. People had to ford the Cimarron and Canadian Rivers just to filerecords in the county seat.
The Old Freedom Express --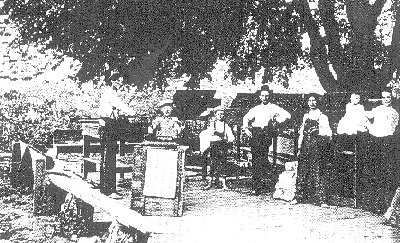 "The Old Freedom Express" in Old Freedom was edited and published by R. I. DeGreer. Mr. DeGreer produced the actual paper on his farm near Farry in an open air wooden platform, under a giant elm tree.
DeGreer made arrangements to buy a newspaper from Caleb Bales of Avard with the understanding that theBales family would assist with the first issues to be printed on April 19, 1906.
Unlike the Old Freedom Express that was used to publish public notices of government land transactions, another newspaper in Haskew located south ofthe Cimarron River may have been printed to merely inform the citizens of other things in the news in the area.
Newspapers of the Present --
This listing below is just a sampling of some of the newspapers that are operating around the NW Oklahoma area today:
Present NW OK Newspapers as of 1997
Harper County Journal
PO Box 240
Buffalo, OK 73834-0240
tele: (580) 735-2526
Fax: (580) 735-2527
Mooreland Leader
PO Box137 / 202 N. Main
Mooreland, OK 73852-0137
tele: (580) 994-5410
Fax: (580) 994-5409
Fairview Republican
1105 N. Main
Fairview, OK 73737-1009
tele: (580) 227-4439
Fax: (580) 227-4430
Cherokee Messenger
PO Box245 / 216 S. Grand Ave.
Cherokee, OK 73728-0245
tele: (580) 596-3344
Fax: (580)

Woodward News
PO Box 928 / 904 OK Blvd
Woodward, Ok 73802-0928
tele: (580) 256-2200
Fax: (580) 254-2159
Enid News & Eagle
PO Box 312 / 227 W. Broadway Ave.
Enid, OK 73702-0312
tele: (580) 233-6600
Fax: (580) 233-7645
Freedom Call
PO Box 172
Freedom, OK 73842-0172
Alva Review Courier
PO Box668 / 620 Choctaw
Alva, OK 73717-0628
tele: (580) 327-2200
Fax: (580) 327-2454
Woods Co. Enterprise News
109 N. Main St.
Waynoka, OK 73860-1243
tele: (580) 824-2171
Fax: (580) 824-2172

FairValley Eagle
Fairvalley of justice & friends
o/c McGill Sisters L&C
PO Box 619
Bayfield, CO 81122