Fair Valley Stories & Names
LK Wagner - 9 September 1997, Tuesday
I'm told that Fairvalley got its name from a minister who was called into their community to conduct their first funeral. As the minister came upon the rise of the hill overlooking the small community he thought to himself, "What a fair valley this is." After that, the name Fairvalley stuck to that rural community.
There may be no visible, incorporated town there today, but that area has been known as Fairvalley, Old Fairvalley, New Fairvalley and now some of us refer to it as the New Virtual FairValley. It has also been known for its sweet well water and its luscious grass for cattle grazers along the Chisholm Trail where cattle were moved and fattened up on the way to market. Lots of cattle drives made their way through that area in the early 1800s and 1900s even when it was apart of the Cherokee Nation (Indian Territory).
Wilma Terrill had brought her information that she had gathered about Fairvalley and the children who had gone to various schools in that area in the early 1900s through the 1940s and beyond. I learned that Wilma's family was the last residents to leave Fairvalley around 1955 (I hope that I have the correct date). They lived in an old bunkhouse near the old railway Depot in New Fairvalley.
On the northend of New FairValley we have Arly and Jan Eden who live on their folks Old Homeplace with Arly's dad and mom (Darrel and Mary Lou Eden) nearby.
Speaking of Darrel, he was telling me about the time that my Dad, Gene McGill couldn't get any his vehicles running and my mother, Vada was expecting a baby ASAP. This was back in 1948 and Dad was needing to rush (or should I say fly) Vada to the Hospital in Alva. In 1948 my parents were living out at the Ranch house on highway 14. It was located ten (10) miles north of Waynoka and seventeen (17) miles southwest of Alva.
One evening Gene gives Darrel a call and says, "My car won't start and Vada needs to get to the hospital because the baby has decided to make its arrival. Can you give us a lift into town?"
Darrel hops in his four wheel drive truck and rushes over to the ranch house. Gene and Vada rushed into Alva General Hospital shortly after that to give birth to a baby girl (Linda Kay).
If I know my Dad, he probably was driving the vehicle like he flew his airplane and Vada giving him directions and instructions all the way into town. Vada might have said, "Slow down, Gene. Don't fly so low."
But knowing my Dad, he ignored all her instructions and flew the four-wheel drive vehicle (unless Darrel was the one driving them and that would be another story in itself. Remind me to ask Darrel who was driving.). Anyway, that was a somewhat creative event of my arrival into the McGill Family.
My sister (Dorthy) who was five (5) years old got the honor of giving me my name. Mom and Dad brought me home to my grandmother's home in Alva where my two older sisters were staying while Vada was in the hospital. When I arrived at my Grandmothers home on Maple Street the first arms that I was laid in was my sister's (Dorthy's) arms.
My folks then told her and my other sister, "We are going to let you name your new baby sister."
Dorthy after going through every name running through her mind finally says, "Let's name her Linda . . . Kay." After that Linda Kay stuck to me. It was the perfect name for me and has always suited me.
I would like to give Darrel Eden a long, belated Thank-You for being there for my folks when they needed help on the 25th of February 1948. Back in those days it was not uncommon for neighbors to help and support their neighbors, whether they would travel in groups to the market place or help them in the field. Whatever it was, everyone helped each other when they needed it. The Communities were one big family taking care of each other and their children. (Hence - "It takes a village to raise a child.")
Darrel also reminded me about something that I had almost forgotten about and that was that my Great Grandmother (Signora Belle Guinn Warwick) would occasionally sneak John R's chewing tobacco and Snuff and do some serious chewing (chawing) of her own. I have been told that it wasn't uncommon for women to sneak their husband's tobacco and snuff and go behind the barn and do their own private chewing (chawing). The women worked as hard as the men did in the settling of the lands in Oklahoma Territory (OT). I think they (women) earned the right to sneak their husbands snuff now and then for an ocassional chew (chaw).
At the Fairvalley Reunion, Darrel told me that he had been born on the 'Old Warwick Place' at Fairvalley in 1924 and lived there the first six years of his life. Remnants of that old place are still there and well hidden in a grove of Chinaberry trees on the east side of the Buffalo Northwestern Railway tracks that have since been removed and no longer exist (the tracks have been removed and no longer exist).
Towards the southend of Fairvalley is another great neighbor (Virgil Russell) and his family. He has been known to patrol the roads for all those speeding trucks that have been traveling up and down the road from oil and gas wells being drilled and pumped.
Other remnants that remain to let you know that there used to be a small, rural village there are the remains of a stockyard where cattle were loaded and unloaded from the railway system that ran through that town. This was back before the 'Dirty Thirties' and 'Depression' hit in the late twenties and early 1930s and Fairvalley finally faded into non-existent status. BUT . . . If you go to 'www.mapquest.com' on the Internet and type in 'Fairvalley, OK', it will bring up a map of Fairvalley, Oklahoma.
If you go out to Fairvalley today, you won't see much of anything now, except rolling, sandy hills of sagebrush, green grasses, plum thickets, and various other wildflowers and wildlife and a few head of cattle and a few Oil and Gas wells being drilled and pumped today. Will! You might also see the New FairValley sign that the Judge (that's me) put up as a memorial and to honor all the past residents of the New and Old Fairvalley.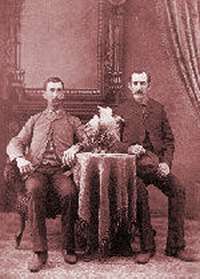 My Great Grandfather (the tall, lanky guy seated on the right in the photo) did not homestead the land he acquired around Fairvalley. John R. Warwick would stake (or loan money) to settlers and either buy them out or foreclose on them because they couldn't make enough to pay their debts. During the twenties and thirties when the Dust Bowl hit Oklahoma, John R. was there and acquired the land known as Fairvalley and which later was handed down from John R. to his daughter (Constance Estella) to her granddaughters (The McGill Sisters).