My 1st FairValley Sign (1997)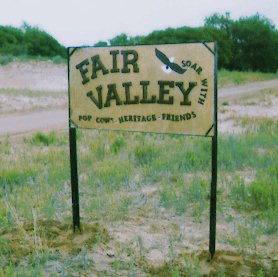 Maybe you have noticed this on the Frontpage of 'The FairValley Eagle'. This photo was taken 16th October 1997 on one of my memorable jaunts to the Fairvalley area.
It was donated by the Fairvalley Judge and the frame was welded by the Fairvalley Mayor and placed on a sandy hill just south of the OLD Fairvalley location.
Someone once told me that where I put the sign was probably about where the first photographer was standing when he took the photo of Fairvalley in 1919.
Southend of OLD Fairvalley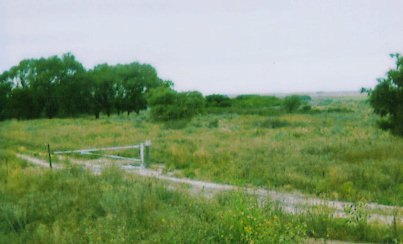 This photo was taken the middle of October 1997 to give you a feel for the lay of the land. I am standing on the roadway looking northwest.
The road you are looking at is where the B & N (Buffalo & Northwestern) Railway tracks used to be before they were taken out around the late 1950s.
If you notice on the Platte map, Warwick Avenue was located on the southend of town running east-to-west just north of the railway tracks. I am told that my Great-Grandfather John R. Warwick use to own a few of the lots on Warwick Avenue.