Coyle Clipper Editor Was A Self Taught Man
'Do You Remember Yesterday?' - In Memory of Her Most Memorable Great Grandparents. by Renee Carroll-Sampson -- rcarrollsampson@aol.com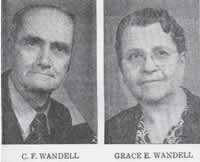 (Originally printed in 'The Perkins Journal', Thursday, October 30, 1980.) by Renee Carroll-Sampson --
Too many fine people come and go; their memories to be set-aside on a shelf to gather dust like an old relic. Too many times the real 'pioneers' who have had so much to do with the establishing of the towns and communities we now live in, are forgotten with the passing of time. This is being written to, hopefully, revitalize the memory of two such people. A couple who took the reins of life, faced the hardships before them, and did it well! They contributed a great deal toward the growth, and history, of the community of Coyle, Oklahoma. This heart-warming couple was none other than Clarence F. and Grace E. Wandell.
If you care to compile a list of things these two fine people achieved, you could start with Clarence, and his tremendous involvement with 'The Cimarron Valley Clipper'. It was Coyle's only existing newspaper; founded by his brother-in-law, E.J. Garner, which ran from 1900 until 1949.
Because 'The Clipper' was the only Democratic newspaper in all of Logan County, Oklahoma, Clarence always made it a point to be honest and to the point in what he wrote. He was quite a diplomat; writing his editorials with all the facts, hurt hurting no one's feelings in the process.
Being that money was often hard to come by during those times, Clarence often accepted payment for the advertisements that were placed in 'The Clipper' to be taken out in trade. Groceries, firewood, garden vegetables, piano lessons for his children, handiwork that needed to be done, outdoor cosmetic make-up, and even theater tickets for the theater over in Guthrie. "We never missed a movie, saw everyone there was to see!', said Lois 'Jeanne' (Thompson) Carroll, he granddaughter.
Clarence was born August 10, 1878 near Kerwin, Kansas; Grace in Romney, Indiana, September 16, 1877. Both grew up near Logan, Kansas.
Clarence was born an aspiring young editorialist, working for 'The Logan Republican' newspaper. Grace was a youthful, yet dedicated schoolteacher, having attended Teacher's Summer Institute in Phillipsburg, Kansas; after which teaching in the surrounding country schools nearby for four terms. They were married in Logan, Kansas April 3, 1898; a beautiful spring day, at four o'clock in the afternoon.
Clarence and Grace first came to Coyle, Oklahoma (located 12 miles northeast of Guthrie) with their son, Gail Wandell (born in Logan, Kansas in 1899) back in 1901.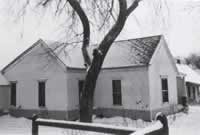 At which time Clarence went to work for his brother-in-law, E.J. Garner, founder-owner-publisher of 'The Cimarron Valley Clipper'. At that time Clarence and Grace lived at the east end of town on East Lee Street, where their second son, Clarence F. Wandell, Jr., was born later that same year.
'The Clipper' was the only newspaper in Coyle, and was published weekly. It came out on Thursdays. It had eight pages, and only cost the subscribers $1.00 per year. The size of 'The Clipper' was 16 X 22, and at one time was known to have a circulation of nearly 600 people. In later years even their several of their grandchildren, as well as nieces and nephews, were known to spend many an hour helping to set type for the upcoming newspaper. His one granddaughter, Lois 'Jeanne' (Thompson) Carroll still reminisces back to time spent thereÖ"We'd work long into the night getting the paper ready for the next day. Grandmother Grace would set the type, and we kids would help with the newsprint. Sometimes it got so late, we would curl up and fall asleep on the stacks of newsprint."
In 1904 they moved from Coyle to Okmulgee, where their first daughter was born. They named her Doris Indiahoma Wandell, since she was born in the Indian Territory of Oklahoma. (Oklahoma wasn't declared a state until 1907.)
After leaving Coyle in 1905, they once again returned in 1907 when Clarence regained his position on "The Clipper', where he was making $14.00 a week. 'The Clipper' office was located in a stone building on the south side of Main Street, just west of the drug store. Sharing the building, with two small offices in front were lawyer, A. Pettet, and marshal, Theo Lower.
By 1909 Clarence had taken charge as the 'publisher-editor' of 'The Cimarron Valley Clipper', and by 1912 had purchased the entire operation himself. "Although he had but a fifth grade education, his editorials read as if written by a college man," were words that have often been used to describe his work. He enhanced his writing by reading countless amounts of books aloud to his family. Grace, his loving wife and a former schoolteacher also tutored him.
In 1911 they were blessed with the birth of their fourth child, and second daughter, which they named Lois Harriett Wandell.
Grace was a particularly capable and enduring individual. In 1917 she was appointed the postmaster of the U.S. Post Office in Coyle, by a Democratic administration, replacing Mr. Pfalzgraph whom was unable to complete his term. At that time the Post Office building was located on Main Street, about three doors west of where the drug store used to stand. She received a 'Certificate of Commendation' for her permanent appointment from the President of the United States, Woodrow Wilson, on March 31, 1919 (which still hangs in her great-granddaughter's home today). She performed this diligent service to the community until 1924, at which time there was a break in her assignment due to a change in the political party. In 1932 she regained her position, under President Franklin D. Roosevelt, and faithfully carried on as Postmaster of the Coyle Post Office until 1948 when she retired at the age of 70.
In addition to her work as Postmaster, she also was an invaluable asset to 'The Clipper'. Besides being a faithful and devoted assistant to her husband, Clarence, she also kept the company books in order.
Clarence remained the owner of 'The Cimarron Valley Clipper' until 1946. When his health worsened, due to a lengthy illness, he was finally forced to suspend publication of his beloved newspaper. It had also become impossible to find any competent help, or to find anyone interested in learning the business. He ended up selling 'The Clipper' to two brothers, Byron N. and Gerald Jacobs. Clarence's last publication was seen in the March 7th edition, 1946. 'The Clipper' changed hands several times after that, but it was never the same. Finally the presses were quieted for good in 1949, due to insufficient funds and poor business handling.
From that time on his health steadily worsened. Sadly enough, to endure the terrible pain of the fatal disease of Multiple Sclerosis that had taken over his body, he took to drinking. He came to be sneered at by the townspeople because of it, and one day near the end of his life, was heard to say, "I'd give years of my life if I could once again walk down Coyle's streets and nobody would say, "There goes Mr. Wandell, drunk again!" He loved his family, he loved his town, and he loved his newspaper.
On July 29, 1957, Clarence F. Wandell, Sr. died. He was 78 years of age. Approximately 200 people attended his funeral. All the businesses in town closed their doors that day, in honor of "this fine old pioneer." Many people were heard to say, "The memory of our little town paper will remain with us foreverÖwe will miss it!" Clarence was laid to rest in the family plot at the Coyle Cemetery.
Having survived numerous floods, Oklahoma drought, and even a failing in many of the businesses in town, Grace stayed on in Coyle after that. She helped the sick, visited with friends, attended her various clubs, and so on. She lived her life as if everybody depended on herÖand they did! She basically became "Grandmother Grace" to everyone in town, young and old. She literally had a heart of pure gold.
Grace could be seen walking to The Coyle First United Methodist Church, on the arm of her daughter, or great granddaughter, most any Sunday morning. Having lost her sight earlier in life didn't keep her from her faith. For many years she was the President of the Ladies Aid Society, and later became the Secretary. She taught the adult Sunday School class there until the blindness robbed her of her sight. During her late 90's, when she on occasion couldn't make it up the small hill to the church, her fellow congregation would bring the services to herÖin her home.
Grace passed away on December 17, 1976, at the age of 99. She lived a full, happy, and contented life; leaving a little joy and happiness with everyone she came in contact with. She lived to see not only all four of her children grow to adulthood, but knew as well each and everyone of her seven grandchildren, her twenty great grandchildren, and even her eleven great-great grandchildren. She, too, was laid to rest at the Coyle Cemetery next to her beloved Clarence.
The office building of "The Cimarron Valley Clipper' has loy store, and filling station now stand in its place. It's sadly depressing to think that established monuments such as that, and so many others in this country over, have died along with those who made them what they were. As equally sad is the fact that some of these 'relics', such as 'The Clipper' office, could not have been preserved or restored for our ancestors (and their descendants) to be able to know them as we haveÖinspiring!
The only monuments that now remain of those two wonderful humanitarians, along with many other sons and daughters of Coyle, are the grave-markers which identify their final resting places in the Coyle, and nearby surrounding, cemeteries.
So I pay special tribute to you, Clarence and Grace Wandell; and to all you other glorious Samaritans and settlers of those early days of Coyle. I hope someone, somewhere, in your fine community remembers you for all you've ever done. That maybe this has stirred the memories inside them, and they will take the time to pass on to their descendants "their" memories of those 'Pioneers of Yesterday!'
I know I will! For you see, I'm the great granddaughter of Clarence F. and Grace E. Wandell of Coyle, Oklahoma (as well as the granddaughter of Doris (Wandell) Disney, who also now lays at rest next to her parents in the Coyle Cemetery outside of town).
"May they rest in peace, and their memory live on forever!"
Links
Timothy Wandell Obit
Grace Wandell Obit
Clarence Wandell Obit
Pearl Fransler
James Cranmer
Coyle Clipper Editor Story
Grace & Clarence Wandell's Golden Wedding Day