Castle On the Hill
Alva, Woods Co., Oklahoma Territory
Photo taken January 22, 1901
(printed date on front in white), Alva, O. T. (Oklahoma Territory). On the back there is pencil notations of "BFS Elkton O.T. 2221 50 Guinn Warrick". My Grandmother, Constance E. Warwick, would have been around 18 years going on 19 and may be in the student body assembled in the foreground.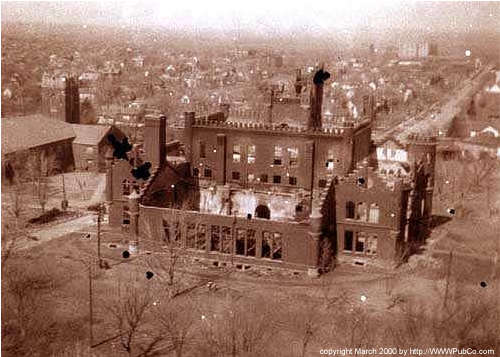 [Click Here to see a shell of the "Castle" after the 1 March 1935 Fire. The Shell of Castle shows backside looking down Sixth St. or College Ave. ]
What I Know So Far...
Northwestern Normal School was at one time scorned by thousands as "Prairie Prince's Plight." A Bill was introduced in 1895 to establish the Normal School in Alva, M County, O.T. It was the second Normal School and Central State in Edmond was the first. The building was started in the Fall of 1897. By March 10, 1898 a contract was given to John Volk and Co. to build it. On April 1, 1898 they began actually work. By July 1, 1898 they laid the cornerstone. The Alva Congregational Church was used as the school until the Normal School was finished. On March 9, 1900 it was dedicated by President James Ament.
. . . The Campus . . .
A Silent message thru the ages
Is delivered to the races passing by,
And the wisdom of the sages
Flashes futily from the sturdy eye,
Watching Life's laughter, song and tears
Thru the eager march of onward years;
With quiet, unperturbed, mobile face
Inspires us to live with equal grace.
[taken from The Ranger 1926 yearbook]